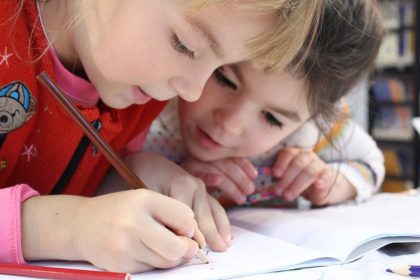 Many parents with young children ask us when is the best time to start in Satchel.
The answer depends very much on the concentration levels of the children and the commitment of their parents. The First level in Satchel maths and English uses special comic-style booklets that are designed to be completed with an adult helper. Children on these levels will not be expected to read instructions or have the concentration to work independently. You cannot learn to read by staring at a page; it is important that words are sounded out loud.
Younger children place unique demands on teachers and their parents. One day they may concentrate superbly, at other times all they want to do is play. At a Satchel class they will receive one to one support from an assistant. At home they will need to work with a parent or adult helper. It is important to be flexible in the approach. If they are not in the mood to concentrate, do not force them to work. Try to find a time of day when they are receptive to learning. Don't try to ask them to complete a booklet if they didn't sleep well the night before. Always try to make they learning relaxed and fun.
A pre-school child may be able to start Satchel if they are regularly able to concentrate and their parents have the time (and patience) to work with them at home. Alternatively a child in reception or year 1 may struggle to complete their work if they are tired from school or other activities. Please contact us if you would like to discuss any aspect of starting young children in Satchel.